Commercial Roofing Equipment and Roofing Tools
AJC Tools has commercial roofing tools and roofing equipment for sale online. Our commercial roofing tools and equipment are designed specifically for easy use and long-lasting durability. AJC Tools and Roofing Equipment presents a complete line of commercial roofing tools and roofing equipment that are made in the USA. Our line of tools and equipment adapt to every project, every application, every single time.
Whether you prefer steel or wood-handled seam rollers, we have the roller that is right for you. Choose from our wide array of roller materials, sizes, and features which best meet your needs; including silicone, rubber, brass, and steel drums, with or without picks or extension handles.
Our selection of heavy duty roof rollers makes flat roofing installation straightforward. AJC Tools has many weights to fit any project, ranging from 25 lbs to 100 lbs. Additionally, we offer rollers with one to three drums that automatically adjust to irregular surfaces, so you're sure to find a reinforced, high quality installation and finish.
Further helping you to always create a superior installation is our line of weld and seam probe tools. They consistently make quality control on the job fast and easy with extension handles and two-in-one capabilities for picking, rolling, and marking.
Standard shears were not designed to effectively handle the heavy duty materials used in commercial roofing applications. To rectify this problem and better meet your needs, AJC Tools presents a complete line of roofing bent shears. We understand the wear and tear that can destroy inferior shears, that's why our bent shears were manufactured expressly for commercial roofers. The key to their durability lies in the fact that they are made of chrome-moly steel with a chrome or Teflon finish for non-stick, corrosion-resistant durability.
The AJC Kor Kutter™ is a roofing core cutter made with the same ideals in mind as our other tools; strength, ease-of-use, and durability. This premium roofing tool will extract 2" diameter cores up to 7" deep, with precision-machined with precision-machined teeth that can be sharpened multiple times in order to make sure that they will last a long time.
Best Commercial Roofing Equipment Includes: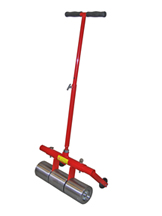 Wood Handle Seam Rollers
AJC Seam Rollers
Heavy Steel Rollers
Weld Probes
Core Cutters
Roofing Bent Shears
And More