Heavy Duty Roofing Rollers
Our heavy duty roof rollers feature a heavy-duty, contractor quality construction, available in various weights and widths to best suit your needs.
Our 25 lb roof roller features a 5" wide, polished steel drum with a collapsible T-handle. The 35 lb steel roof roller has three individual rollers that easily adjust to fit uneven surfaces. Our 75 lb roof roller also features three individual rollers, as well as removable legs and an adjustable handle. Our 100 lb heavy roof roller is built to conform to irregular surfaces and features removable legs.
Contact us
if you have any questions about our roofing roller products.
Heavy Steel Roof Roller (75 lb)




Product# 170-16S75

Price: $300.99




This steel roof roller is heavy-duty and contractor quality. It has three individual rollers and adjusts to irregular surfaces. The removable legs allow this product to remain standing when not in use and aids in transport.

AJC Roofing Tools - Made in the USA

view

FIND A DEALER


Heavy Steel Roof Roller




Product# 170-16S35




This AJC roof roller is heavy-duty and contractor quality. It has three individual rollers and adjusts to irregular surfaces. Please note that this does not come with removable legs!



AJC Roofing Tools - Made in the USA

view
FIND A DEALER


AJC Heavy Steel Roof Roller (25 LB)




Product# 170-5S25

Price: $210.90




AJC's 25 pound, 5-inch-wide polished heavy steel roof roller is a high quality and durable product. It also comes equipped with a handy collapsible t-handle. Please note that the AJC roof rollers do not come with legs.

Contact us if you are interested in this heavy steel roof roller.

AJC Roofing Tools - Made in the USA!

view

FIND A DEALER

Best Heavy Steel Rollers Include: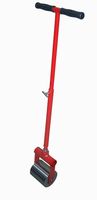 Heavy Steel Roof Roller 170-16S75 - 75 lb.
Heavy Steel Roof Roller 170-16S35 - 35 lb.
Heavy Steel Roof Roller 170-5S25 - 25 lb.
And More