Roofing Blades
Hook Blades, Utility Blades & Bowtie Blades
Our selection of roofing blades spans the gamut, including bowtie, utility, and hook blades, as well as a wide range of dispensers and accessories.
All of our blades are available in packs of 5, and for the ultimate in durable and safe portability, we also offer a selection of hook blade dispensers. You may also buy blades in convenient bulk packs, including our AJC Big Hook™ Blades, sold in packs of 100, as well as our standard utility blades, sold in a bulk dispenser of 100. Our inventory also includes the AJC bowtie blades, crafted from the toughest steel and featuring four sharpened edges for maximum usage, as well as our Sheffield English hook blades.
If you have any questions about our roofing blades,
contact us
– we'd love to hear from you!
AJC Big Hook Blade™ - Bulk Pack of 100




Product# 059-HB100

Price: $50.99




Roofers prefer our deep cut, Big Hook Blade over any other. AJC has set a standard for excellence in hook blade technology that is unmatched in the industry. Great for any type of roof cut, our blade fits all stationary handles and AJC knives. We also have these available in packs of 5 (059-HB5) – all made from the toughest steel!

Roofers prefer our deep cut, Big Hook Blade over any other. AJC has set a standard for excellence in hook blade technology that is unmatched in the industry. Great for any type of roof cut, our blade fits all stationary handles and AJC knives. We also have these available in packs of 5 (059-HB5) – all made from the toughest steel!

view

FIND A DEALER


AJC Big Hook™ Blade (5 blades per pack)




Product# 059-HB5

Price: $9.49




Roofers prefer our deep cut, Big Hook blade over any other. Excellent for any type of roof cut. Fits all stationary handles and AJC knives. Made from the toughest steel.



AJC Roofing Tools - Made in the USA




view

FIND A DEALER


5-Pack G20 Orange Janser Hook Blade (100 total blades)




Product# 059-171

Price: $59.99




5-Pack G20 Orange Hook Blade for Green Janser Knife (100 total blades) 5-Pack G20 Orange Hook Blade for Green Janser Knife (100 total blades)

view

FIND A DEALER


AJC Utility Blades - Bulk Pack of 100




Product# 075-97100

Price: $16.49




Standard utility knife blade. Fits most knife handles and retractables. Made from the highest quality steel.

view

FIND A DEALER


AJC Bowtie Blades (Bulk Pack of 100)




Product# 059-BTB100

Price: $45.99




The AJC bowtie blades are heavy-duty roofing blades with four sharpened edges for maximum usage and are made from the toughest steel. These roofing bowtie blades fit both the 57-MCGA and 057-RK3 roofing knifes. Buy in a bulk pack of 100 right here!

AJC Roofing Tools - Made in the USA!

view

FIND A DEALER


English Hook Blade Dispenser (100 pack)




Product# 142-28100

Price: $21.99




Our genuine English hook blade dispenser is now available in boxes of 100! They are made in Sheffield, England and are available at a terrific price! Shop securely online below.

view

FIND A DEALER

Best Roofing Hook Blades Include: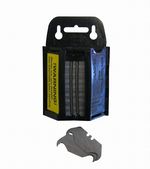 Big Hook Blades
Utility Blades
Bowtie Blades
English Hook Blade Dispensers
Edge Trimmer Blades
G20 Orange Janser Hook Blades
And More